Congratulations to our very own Chad Tiernan '23 named as one of the 2021 DII Men's All Americans!  Check out the full list here:
https://www.ncrugby.org/news_article/show/1212562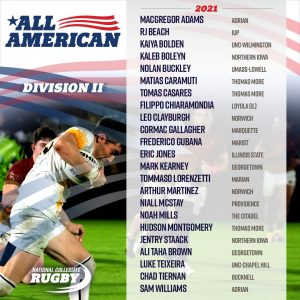 The National Small College Rugby Organization (NSCRO) welcomes longtime sports marketing executive, Mark Reilly, to its Board of Directors.
Bucknell Rugby ranked 17 in Division II college rankings for Week 8
https://www.goffrugbyreport.com/news/men-d2-college-rankings-2021-week-8
Division II Rugby Article from Goff Rugby Report on October 15, our very own Seth Gazes is quoted regarding Bucknell Rugby.
https://www.goffrugbyreport.com/news/dii-mens-college-games-weekend-major-rankings-clashes